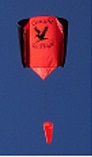 MAXI KITE:
The Maxi kite is the way to go when the winds are light, due to the large surface area. It can handle larger baits and handle them with ease. The maxi is the flag ship in our collection due to the large size of the kite and its strong pulling power. It can deliver quick results when deploying the bait to the targeted area. This model has two spars that run down the length of the kite on either side of the main body. When disassembled, it can be folded back into its wallet . Once you have experienced fishing with a kite we are sure that you will never go back to fishing the conventional way again.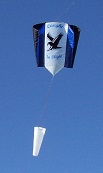 MIDI KITE:
The Midi kite is the main work horse in the stable, it has good carrying capacity and is a very stable flyer in light to medium wind conditions. This kite is made of tough rip-stop nylon, it is waterproof with reinforcing on the leading edges of the air rams for greater stability in flight. It is light weight and supported with internal spars , as with the sled kite it can be easily folded back into its wallet for storage after use. It has the capacity to carry your bait out to distances that you thought were unreachable. Its distance capacity is 500m and you can control where and how far you want the kite to go. It just doesn't get any easier than this.


MINI KITE:
The sled kite is the ultimate choice for when the winds start to pick up. This is the pocket dynamo and has the highest retrieval rate of all the kites, which means you can get out there amongst the fish quickly and have the kite back in without fuss. This kite is to be used with light baits in medium force winds. Our kites have been specially designed for fishing, the reinforced leading edge of the air rams assures you a steady and stable flyer.

Getting the kite out is simple and only minimal skill is needed in retrieval, even when the wind load is high. The kite is made of tough rip-stop nylon which is both waterproof and light-weight and can be easily folded back into its compact bag for easy storage The smallest of our kites will surprise you with its ultimate performance, simplicity at its best.